Are you trying to figure who to go to for your annoying back ache, creaky neck or stubborn shoulder pain but not sure where to start?  Are you confused about whether you need to book an appointment with the physio or with your local remedial massage therapist?  Here is a short overview of their main differences which may help …….
Physiotherapy
Physiotherapists will treat people who are suffering from injury or any physical conditions which result in pain, restricted movement and altered mobility using a range of different techniques.  Physiotherapists are able to refer clients for diagnostic procedures such as X-rays.  A typical physical therapy session will involve some assessment, some bodywork, application of ice, ultra-sound or TENS machines and some corrective exercise therapy. Other treatments they may use include hydrotherapy, gym rehabilitation and performance monitoring.
Typical injuries that may be treated by physiotherapists are both acute and chronic in nature.   It is not uncommon for a physiotherapist to be seeing two or three patients simultaneously and so you may experience times during your physiotherapy session when you are not actually being formally treated by the therapist.
As a rule of thumb, if you are suffering from an acute injury or require a firm diagnosis of your condition then it is probably preferable that your first port of call be a physiotherapist. It may be that after a few sessions then massage therapy may become more relevant for your treatment.
Remedial Massage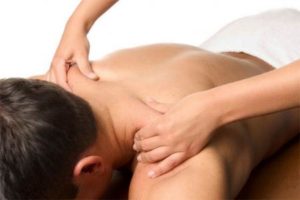 People will most commonly see remedial massage therapists when they are suffering from muscular and soft tissue complaints. Sessions will typically last around an hour and the therapist will use their hands, fingers, knuckles, elbows and forearms to provide the manipulation to the soft tissues of the body (muscles, tendons, ligaments and connective tissue/fascia).   Although most remedial massage sessions have a direct therapeutic objective, for many people an added benefit is that, whilst the massage itself may be a little painful and intense, it will always provide a degree of relaxation for the massage recipient.
Remedial massage therapists can use a range of different techniques including deep tissue, trigger point work, stretches, myofascial release and stimulating acupressure points to help relieve pain, decrease muscle tension and restore balance to the body.
Massage therapists do not do any manipulation and, most importantly as a means of distinction from physiotherapists, they do not have sufficient training to be considered as diagnostic practitioners. If you are after a firm diagnosis of any condition you are faced with then you will need to see someone other than a massage therapist.
Both Physiotherapists and Remedial Massage Therapists are able to prescribe stretches, strengthening exercises, postural training and balance exercises.
If your condition is more general and chronic in nature, such as stiff neck or ongoing sore shoulder or low back pain then massage therapy may be appropriate. This is particularly the case if you wish to have a more holistic approach with the therapist devoting their time solely to your full body rather than a session that is totally dedicated to dealing with the soreness in your left forearm, for example.
So call us now to book an appointment: Ph.  0415 422 600  or visit our website for further information: